Transforming a Living- Dining area into a Music Studio
Our Youtube Star Mattias Krantz bought a new house for (all) his Pianos and YouTube-videomaking, and requested help for the redesign of his Living/ Dining area. The challenge was to turn this regular Living/ Dining area into a rather professional music studio, with a demand for soundproofing and light-dimming, while featuring an elegant, minimalistic Interior Design style as a background for professional Youtube videos.
The house´s existing condition has several tones of warm beige tones whether in the Floor´s tile texture, the Kitchen´s wood panels and tiles, and the doors and ceiling´s wooden texture´. That shall be the underlying base for any proposed redecorating of the space.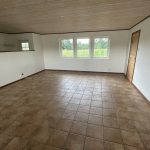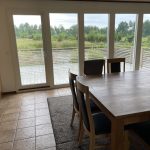 To answer the demand for Soundproofing requirement; the Design proposal features Decorative Slat Wood Panels (Akupanel WoodUPP), EQ Acoustic Tiles, and other Furniture and decorating items that have good sound-absorbing quality. While for maximum elimination of unwanted daylight_ as required for Videomaking_, two layers of Floor-to-ceiling Curtains were used at both glazed facades of the room, to insure a total dim-out of the interior even at midday
The client wished for several options for the Accent colour (for the Sofa and art decorations), our options ranged from Off-White, Indigo Blue and Grey. Different Mood boards were created, our favourite one featured the Indigo Blue as Accent colour
The biggest benefit of Realistic 3D renderings is the ability to compare different materials, colours or Layouts, before making any changes in reality
And finally, a Shopping List was created for the client with images to every new item of the Design Proposal, with link to where it is available for purchasing